ARES 40
L43 x P43 x H100
Dimensions extérieures
219 €
Délais de livraison : 5 à 7 semaines (En période estivale, ces délais peuvent être rallongés)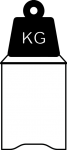 High resistance high platform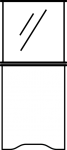 Piedestal for display case
40 characters max per line
The Ares range of pedestals will allow you to display your works at the desired height, while benefiting from great stability and resistance to the heaviest loads. You can also put up a display case of our different Alpha or Atlas ranges.
Characteristics of the ARES base
Composed of 10mm palboard.
The width and depth dimensions on the Ares range represent the external dimensions of the table top. If you want your ARES base plate to be aligned with the bottom plate of your display case, enter 3 cm more in width and depth compared to the internal dimensions of your display case.
Example: For a display case with internal dimensions Width 50 x Depth 50 -> Dimensions of ARES base: Width 53 x Depth 53
can help you realize your project