Design your own custom-made showcase
40 characters max per line
High resistance top plate
40 characters max per line
Nombre de spots LED souhaités :
ALPHA
ATLAS
Livraison : 5 à 7 semaines
High resistance top plate
How to choose the right interior dimensions?
We advise you to take a margin of 3 to 5 cm on each side and a margin of 5 to 10 cm above your work. Take for example this statue. With a width of 68 cm, a depth of 43 cm and a height of 76 cm; the dimensions of the ideal showcase would be W75 x D55 x H85.


Caractéristiques de l'ALPHA
Les parois en Plexiglas s'emboitent par un système d'encoches qui confère à la vitrine une excellente stabilité.
Le socle compact HPL saura quant à lui résister aux lourdes charges.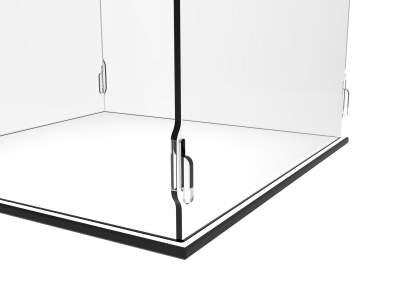 Design minimaliste et symétrique pour sublimer vos plus belles œuvres.
Une vitrine épurée sans encoche apparente qui s'intégrera parfaitement à votre intérieur.


Caractéristiques de l'ATLAS
Les parois en plexiglas ont les angles thermoformés (plié à chaud), et reliées entre elles par emboitement, ce qui confère un design lisse et épuré ainsi qu'une rigidité optimale permettant ainsi de pouvoir empiler ou exposer une œuvre directement sur la vitrine.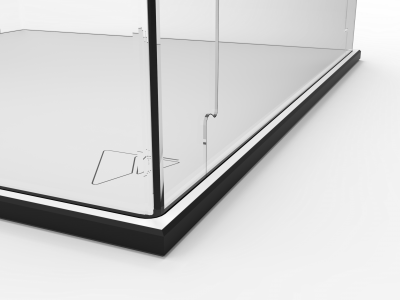 Comment bien choisir ses dimensions intérieures ?
Il est conseillé de prendre une marge de 3 à 5 cm de chaque côté et une marge de 5 à 10 cm au-dessus de votre oeuvre. Prenons pour exemple cette statue. Avec une largeur de 68 cm, une profondeur de 43 cm et une hauteur de 76 cm; les dimensions de la vitrine idéale seraient L75 x P55 x H85.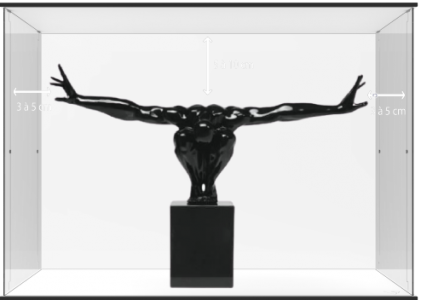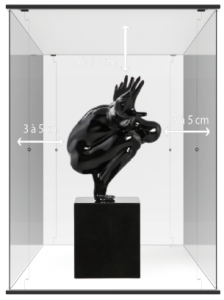 How do I perfectly align my showcase with my furniture?
Simply take the dimensions of the cabinet in question, subtract 3 cm in width and depth to obtain the interior dimensions of the display case.
Let's take for example a piece of furniture 85 cm wide by 55 cm deep, the interior dimensions of a showcase that would align perfectly with this piece of furniture would be 82 cm wide and 52 cm deep.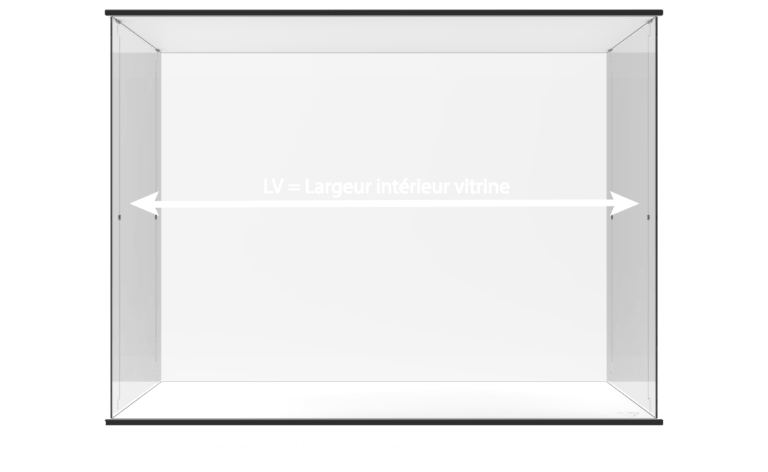 can help you realize your project